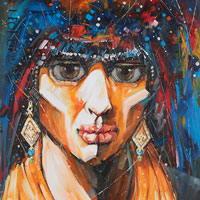 Not Just A Pretty Face
Exploring Feminine Identity in Contemporary Pakistani Art
In a world where Pakistan's complex religio-political landscape often makes headlines, few know of the talent that lives there. Successful Pakistani artists are fought over at global auction houses; their works are part of permanent collections at respected museums like the Guggenheim and the Tate. The southern coastal city of Karachi, Pakistan's largest and most diverse, has one of the biggest art scenes in the region.
This exhibition aims, first and foremost, to highlight the vibrancy and diversity of Pakistan's art. But as is apparent from it's title, another aim is to celebrate the Pakistani woman. The female form has been a muse for centuries but in Pakistan her narrative follows the evolution of our times. For a country moving from the great Mughal Empire through the shadows of colonization, to it's golden age in the 60's, to the challenges it faces today, the woman has been a sometimes paradoxical symbol of survival, resilience, strength, grace, and a changing nation.
The artists in the collection salute Pakistan's rich art movements; from greats like Abdur Rahman Chugtai's blend of Mughal lines and Western compositions, to Jamil Naqsh's experiments with the female figure and pigeons. The show celebrates beauty and womanhood in a range of expressive voices. The artists revel in their mastery of technique; the paintings are alive and detailed, with allusions to Pakistan's creative heritage of architecture, calligraphy and poetry.
With this show, we want to challenge the mainstream narrative about Pakistan. For those who feel a disconnect or tension with Pakistan, we hope to offer a fresh topic of discussion, one that is more positive and hopeful, one that is not defined by bias or presumptions. In providing this opportunity to visually connect with talented Pakistani's who push artistic boundaries, we invite our viewers to relate to them on a creative, human level.